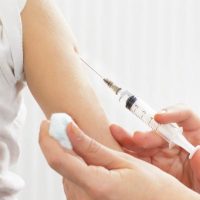 (Danville, Va.) (CBSMiami) — A 7-year-old Pittsylvania County boy is among the latest victims of the flu epidemic.
According to CDC projections, there have been 700 thousand flu related hospitalizations this season.
7-year-old Kevin Baynes began feeling sick on Friday, was diagnosed with strep throat and the flu on Saturday, and died on Sunday.
The fatality would make it Virginia's first pediatric death from the virus this year. A medical examiner is still determining Kevin's exact cause of death.
Flu cases are on the rise at hospitals, clinics and doctors' offices in Virginia. At least one children's facility in Southside Virginia had run out of the flu vaccine Tuesday and another reported a spike in flu-like symptoms and requests for the shots.
At least 19 states have reported at least one pediatric death related to the virus this season.
Children are just a fraction of the thousands of flu patients inundating hospitals nationwide.
Atlanta's Grady hospital has seen as much as a 25 percent increase in overall emergency room visits so far this year.