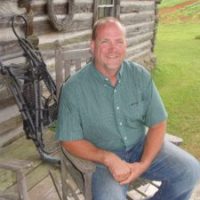 (Pittsylvania County, Va.) – A Callands, Virginia tobacco grower has been named Southeastern Farmer of the Year.
Robert Mills was chosen at the Sunbelt Ag Expo. His Blair View Farm in Callands was recognized for "excellence in agricultural production and farm management."
In recognition of the honor, Boone Tractor in Bedford is delivering a Massey Ferguson 5713SL from their Danville store.
His farm has 2,244 acres with 1,650 acres rented and 594 acres owned.
Diversity characterizes his tobacco operation. Last year, Mills grew 67 acres of conventional flue cured tobacco yielding 2,800 pounds per acre, and 20 acres of organic flue cured tobacco yielding 3,000 pounds per acre. He also grew three acres of dark fired tobacco.
Mills also grew a five-acre tobacco plot as a potential biofuel.