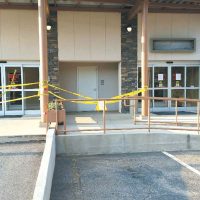 (Richmond, Va.) – A week after shooting down legislation designed to help a closed hospital in Patrick County, the state Senate has voted unanimously in favor of a bill that could do just that.
Sen. Bill Stanley's bill would extend the state license of Pioneer Community Hospital in Stuart by one year, giving Patrick County time to find a new operator for the facility, which has been closed since September.
Stanley offered similar legislation last week but said Democrats refused to support the bill unless he agreed to expand Medicaid in Virginia.
A large group of supporters from Patrick County watched and cheered from the gallery as the Senate voted 39-to-0 in favor of the bill.
Economic developers admit the legislation is just the first step in a lengthy process to reopen the county's only hospital.