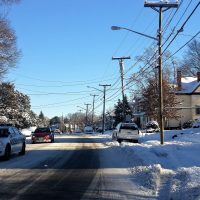 (Danville, Va.) — The National Weather Service office in Blacksburg has issued a special weather statement that warns of slippery travel conditions  in the Danville area tonight. Temperatures dropping through the 20s into the teens tonight will allow any melted snow to refreeze on road surfaces. Those traveling should use extra caution, and allow some distance between their vehicle and the vehicle in front of you, especially when braking.
• The National Weather Service reported a total snow accumulation of 8.8 inches in Danville, recorded from official measurements at the airport. The total was the second highest snow accumulation in the region. South Boston received 10 inches in the storm.
• Public Works crews continue to plow residential streets and apply sand. Residential streets that have been plowed are in fair condition, with a layer of packed snow remaining on the surface. We estimate that crews will complete plowing residential streets by Friday afternoon.
• Primary roads are in good condition, but motorists should be aware of the special weather statement issued by the National Weather Service.
• The Police Department responded to seven storm-related calls today from 7 a.m. to noon. Three calls involved motor vehicle accidents. Four calls were for disabled vehicles.