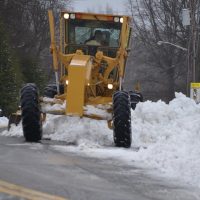 (Danville, Va.) – Danville Public Works crews pretreated major thoroughfares and bridges with brine Tuesday in anticipation of the storm. Brine is a mixture of water and salt which helps prevent the snow from freezing onto roads and bridges.
Public Works Director Rick Drazenovich said crews are prepared for round-the-clock snow removal operations.
They will begin plowing road surfaces when one inch of snow has accumulated. Plowing continues only on the highest traffic volume roads until the end of the snow event.
When the snow has ended and the main thoroughfares are cleared, crews then will move to streets that connect to primary routes and bus routes. The final stage will be residential neighborhoods.