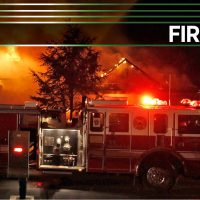 (Danville, Va.) — The occupant of a mobile home was treated for smoke inhalation after fire destroyed her home Monday afternoon.
Danville firefighters were called to 260 Eastwood Drive about 12: 30 and found the trailer fully involved with heavy smoke coming from the rear of the single wide.
Family members say the woman who lived at the address woke up and found her bed on fire. She grabbed the cat and fled. She was treated on the scene for smoke inhalation and transported to SOVAH Health-Danville.
The fire was under control in just over thirty minutes but the trailer sustained heavy damage.
Three engines, a ladder truck and 16 firefighters responded.
The cause is under investigation but it's believed the fire started in an electric blanket.