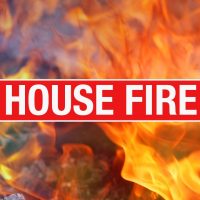 (Danville, Va.) – There were no injuries in a morning fire that gutted one home and damaged another.
The Danville Fire Department was called to a house fire at 514 Claiborne Street at 3:16 Wednesday morning and arrived within five minutes. The home was heavily involved when the first units reached the scene.
Crews managed to control the blaze from outside the home and then entered to search for occupants. All had gotten out safely before firefighters arrived.
Damage to the house was significant and the heat was so intense that it melted the siding on an adjacent home.
A space heater in a front room sparked the blaze. The occupants were in this room when the fire started. They escaped unharmed but lost most of their belongings.
The local chapter of the Red Cross is assisting three adults and three children with temporary housing.
Three engines, a ladder truck and 18 firefighters responded and were on the scene for three hours. One firefighter suffered minor injuries but did not require treatment or transport.