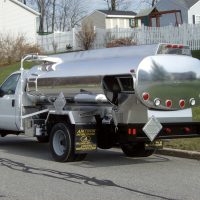 (Gretna, Va.) – Amthor is adding 90 new jobs in Pittsylvania County and will be the first company to locate in the Gretna Industrial Park.
The announcement came Wednesday from Virginia Secretary of Commerce and Trade Todd Haymore, who grew up in Pittsylvania County. Haymore said Amthor International hopes to increase export opportunities by expanding the Gretna operation and ramping up production.
The country's largest maker of tanker trucks will invest $7.1 million in the new facility. The 100,000 square foot building is currently under construction.
Once the expansion is complete, Amthor will have 200 employees. 110 workers are currently employed at Amthor's Gretna facility.
Amthor opened the Gretna plant in 1992 and has made several subsequent expansions. 50 jobs were added in 2012 and another 30 positions were created three years later.