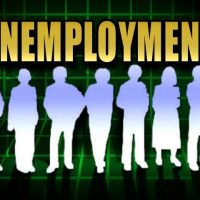 (Danville, Va.) – Unemployment ticked higher on the Southside and throughout Virginia in November.
The Virginia Employment Commission reports that Danville's unemployment rate increased from 5.6 percent in October to 5.7 percent in November, while Pittsylvania County's jobless rate rose from 4.2 percent in October to 4.3 percent in November.
Most of the surrounding cities and counties also reported an increase in their jobless rates between October to November.
Halifax County's jobless rate increased from 5.1 percent to 5.2 percent.
Henry County's unemployment rate rose from 4.6 percent in October to 4.8 percent in November. A similar increase was reported in Charlotte County.
Virginia's seasonally adjusted unemployment rate was up one-tenth of a percentage point in November to 3.7 percent, after declining by a tenth of a percentage point in each of the previous two months.