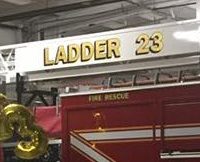 (Pittsylvania County, Va.) – The cold, windy conditions over the weekend kept firefighters busy across Pittsylvania County.
Ringgold Volunteer Fire Chief Mike Neal says they answered about 20 calls, including several structure fires. A shop fire was reported early Saturday morning on Owl Road in the Mountain Hill Community. That blaze started in a wood stove but firefighters were able to save the building.
Another fire was reported a few hours later on the Chaney Store Road, also in Mountain Hill. Neal says the floor joists under the fireplace ignited and flames spread under the home.
Numerous grass fires were also reported throughout the county. The largest happened Sunday night behind the Danville Airport. Some discarded ash ignited, burning about an acre of woodland. Neal said firefighters kept the flames from spreading to a nearby home.
The department also responded to a single-vehicle accident on the Kentuck Road in the Laurel Grove community. The wreck left two people with serious injuries. Both were airlifted from the scene in separate helicopters.