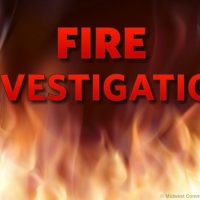 (Danville, Va.) – Danville firefighters had to contend with frigid conditions and high winds as they battled a structure fire at 138 Shannon Drive Friday afternoon.
Engine 5 was the first unit to arrive and found heavy smoke and fire coming from the garage of a two-story home. Two additional units and a ladder truck were called to the scene, along with support personnel.
Crews began an attack of the attached garage but were hampered by wind driven smoke and flames. A partial collapse of the garage forced fire crews to retreat and continue to battle the flames from outside the home.
The fire had damaged the electric service to the residence and the electric department had to shut down part of the power grid before firefighters could safely re-enter the home to search for any hidden fire.
Due to the freezing conditions, an additional engine was called to assist on the scene.
The attached garage was completely destroyed by the fire, with the home suffering heat and smoke damage to the second story.
The fire marshal believes that lines arcing from the heavy wind conditions caused the leaves around the home to catch fire. The fire then spread to the siding and eventually into the garage attic space. The home was unoccupied at the time.