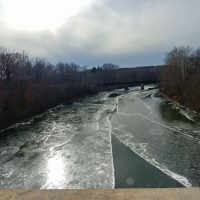 (Richmond, Va.) — Virginia Gov. Terry McAuliffe declared a state of emergency Wednesday in advance of the approaching storm. The declaration authorizes state agencies to assist local governments in responding to the significant winter storm.
The governor authorized state agencies to identify and position resources for quick response anywhere they are needed in Virginia.
States of emergency were also declared in North Carolina, Florida and Georgia,
Residents across a huge swath of the U.S. are hunkering down, waiting out a massive winter storm packing snow, ice and high winds, followed by brutal cold, as it moves up the Eastern Seaboard.
The worst conditions stretch from the Carolinas to Maine, with the Northeast getting the brunt on Thursday.
It already has led to thousands of canceled flights and shuttered schools, as well as fears of outages and flooding.
Officials are urging residents to stay home so crews can clear streets and roads of what could be as much as foot or more of snow in some places. Boston could get as much as 14 inches.
The blast of winter weather and accompanying plunging temperatures has been linked to at least 17 deaths as far south as Texas. (58 Expressway photo courtesy Rick Fain)