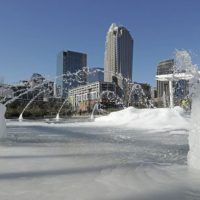 (Semora, N.C.) — Danville avoided the snow and ice but will have to contend with bitterly cold temperatures and high winds.
The snowfall came close to our area. Milton was spared but snow fell in Semora, N.C.
Person County also got its share. Roxboro Police are asking motorists to stay off the roads this morning, as many roads remain snow covered. Highway 501 is in fair condition but the center turn lanes and intersections are slick. Secondary roads are covered in snow and some have a layer of ice underneath.
Similar road conditions were reported throughout Person County.