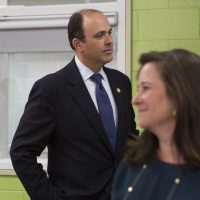 (Richmond, Va.) – Republican incumbent David Yancey will be returning to the General Assembly after his name was pulled from a film canister during a tie-breaking lottery draw in Richmond Thursday. Democrat Shelly Simonds had said Wednesday that she would abide by the results of the drawing.
The leader of Virginia House Republicans says the victory by a GOP legislative candidate who won after his name was drawn from a bowl has cemented Republican control of the lower chamber.
Kirk Cox's comments came shortly after Del. David Yancey was named the winner of the 94th District by the Virginia State Board of Elections after the tied election was settled by drawing names.
Republicans currently control the House 51-49. But Democrats could ask for a recount in the 94th District and a federal court hearing is set for Friday in another close contested House seat.