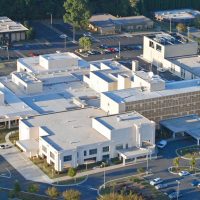 (Eden, N.C.) – The New Year brought a new owner and a new name for Morehead Memorial Hospital in Eden, which is now under the UNC Health Care umbrella. Under the agreement, Morehead Memorial is changing its name to UNC Rockingham Health Care.
UNC Health Care announced that Dana Weston will remain president of the hospital. Weston received her master's at UNC-Chapel Hill and was awarded a Hospital Administration Fellowship at Duke University Hospital upon graduation.
According to the Greensboro News and Record, as of Jan. 1, all employees of Morehead Memorial in good standing automatically became employees of UNC Rockingham Health Care. UNC Health Care will run both the hospital and the skilled nursing facility.
Morehead is UNC Health Care's 13th affiliated hospital.