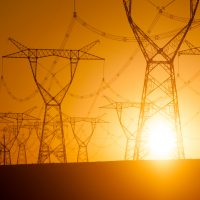 (Danville, Va.) — As a result of the bitterly cold temperatures, Danville Utilities has issued a peak power alert through Friday evening, and it is asking electric customers to conserve energy during this period. The peak periods will be from 7 p.m. to 10 p.m. Tuesday through Friday and from 7 a.m. to 10 a.m. Wednesday through Friday.
Peak alerts are not a notice of a shortage of electricity. They are a load management effort to reduce the demand for electricity during periods when electric load levels reach their highest point. These high load periods are the electric utility industry's equivalent of rush-hour traffic.
Danville's transmission provider, American Electric Power, bases its transmission charges on the highest peak usage hour in a year.
During these periods, customers are asked to do the following:
• Shut off lights when not needed
• Unplug small appliances and electric chargers (especially those with small lights)
• Lower the thermostat
• Run the dishwasher and do laundry and other household chores requiring electricity during hours other than the peak hours