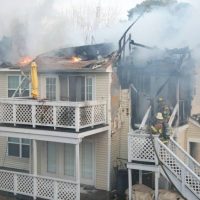 (Virginia Beach, Va.) — Virginia Beach firefighters rescued four residents from a two-alarm fire at an apartment complex Sunday morning.
Investigators believe that careless smoking may have started an apartment fire that displaced up to 19 people.
The blaze was reported just after 7 a.m. Sunday in in the 700 block of Willow Lake Circle in Virginia Beach. Two police officers were taken to the hospital and treated for smoke inhalation.
When fire crews arrived, they saw two women calling for help from a balcony and rescued them. Police officers rescued two other residents.
All eight units in one of the apartment community's buildings suffered heavy structural damage.
Investigators believe careless disposal of smoking materials may have started the fire.
At least 60 firefighters responded to the call. Officials say all of the building's residents escaped uninjured, but this fire could very well have resulted in one or more fatalities.