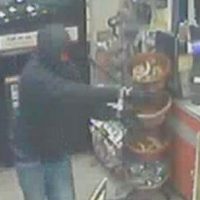 (Halifax County, Va.) – The Halifax County Sheriff's department is looking for the man who robbed the Cluster Springs Apple Market located at 6015 Huell Matthews Highway late Wednesday night.
Sheriff's deputies and Virginia State Police responded to a report of an armed robbery shortly before midnight Wednesday.
The cashier told investigators a masked man entered the store, pointed a gun and demanded cash. He fled with an undisclosed amount of money and no one was injured.
The robber was an African-American male, approximately 6 feet tall and weighing 175-200 pounds. He was wearing jeans, a black hooded sweatshirt, black shoes and had a red ski mask over his face.