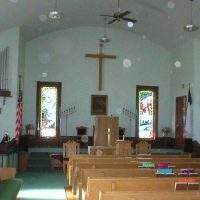 (Henry County, Va.) – A Tuesday night fire rekindled, destroying a church in Henry County.
Thursday's fire was called in just after 3:45 a.m. when someone noticed flames shooting through the roof of the church. Volunteers from the Horsepasture Fire Department responded in the frigid temperatures and used a ladder truck and tankers to douse the flames.
Flames destroyed what was left of the Antioch Christian Church, which had been heaving damaged by fire two nights earlier.
Investigators say the initial fire started in some hymnals that were ignited when a wire leading to a piano lamp overheated.
Members of the church plan to rebuild and will hold services this Sunday at the Horsepasture Volunteer Fire Department.