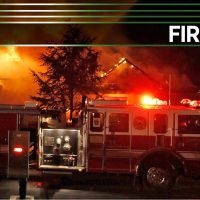 (Rockingham County, N.C.) — A 30-year-old father and his 22-month-old child have been airlifted to Chapel Hill after a house fire in the Ruffin community Thursday night.
Fire Marshal Robert Cardwell said firefighters were called around 6:40 p.m. to a home on Quick Road in Ruffin, on the Caswell County line, after receiving a report of a house fire.
The father and son were in the bathroom when he heard a "popping" sound, opened the door and was overcome by heavy, black smoke. He wrapped the boy in what he could grab and both fled for their lives. They ran through smoke and flames to safety.
The man was able to drive his son to the Ruffin Volunteer Fire Department, where both were treated for burns and then airlifted to the UNC Chapel Hill Burn Center. The father suffered second-degree burns to his arms and chest. The toddler was treated for second-degree burns to his face and hands.
The home was fully ablaze when firefighters reached the scene and the fire destroyed everything but the foundation. Investigators say it will be hard to determine the fire's cause because of the extensive damage.