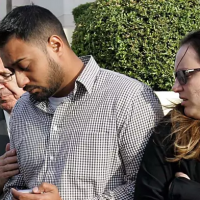 (Washington) — A Virginia businessman who used shell companies to apply for nearly a thousand foreign workers' visas will spend 28 months in federal prison before he is likely deported to India. Starting in 2000, Raju Kosuri launched over a dozen businesses that claimed to provide information technology services out of his IT company, Ecomnets of Danville, Va. In fact, he admitted, they existed merely as vehicles to get visas for Indian nationals who would actually work elsewhere
According to the Washington Post, his wife and U.S.-born son are also being sent back to India.
For years Kosuri ran what prosecutors in Alexandria federal court described as a visa-for-sale system using the H1-B program for specialized foreign workers, making over $20 million in the process. He pleaded guilty last year to visa fraud and making false statements.
President Donald Trump has frequently criticized the H1-B program, at times suggesting he would eliminate it altogether.
Kosuri, 45, was initially facing far more prison time as leader of the fraud conspiracy. Judge Leonie M. Brinkema said in court that problems with the prosecution of the case led to a more lenient sentence, but that she had to send a message to anyone considering similar actions.