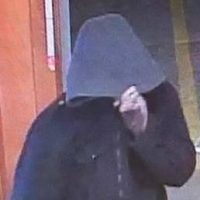 (Halifax, Va.) — The Halifax Police Department is looking for the man who robbed a convenience store at gunpoint Wednesday night.
Halifax Police Chief Stuart Comer reports that a man wearing a dark colored hoodie walked into the Jiffy 15 in the 1000 block of L P Bailey Memorial Highway just after 7 p.m., told the clerk he had something in his pocket and demanded all of the cash from the register.
The clerk told police she didn't see a gun but the the man had his hand in his pocket and was pointing something at her.
After getting the money, the robber fled the store and headed toward Northeast Bethel Road. K-9 Units from the Halifax County Sheriff's Office responded but lost the scent at King's Bridge Landing, where it's believed the suspect got into a car.
Anyone with information is asked to call Crime Stoppers at (434) 476-8445.