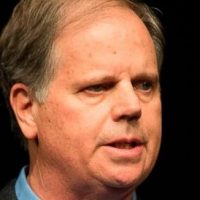 (Birmingham, Ala.) — For the first time in 25 years, a Democrat has won a U.S. Senate seat in Alabama.
Doug Jones, a widely respected former U.S. attorney, has narrowly defeated Republican Roy Moore, the embattled former chief justice, in Alabama's special Senate election. With all counties reporting, the Alabama Secretary of State reported Jones with 49.92 percent of the vote, and Moore with 48.38 percent of the vote.
The campaign was marked by accusations of sexual abuse and child molestation against the Republican and the upset delivered an unexpected victory for Democrats and shaved Republicans' Senate majority to a single seat.
But Moore is not conceding to Jones, telling campaign supporters "it's not over." "It's going to take some time," the candidate says during a brief appearance before supporters. Campaign chairman Bill Armistead says that because the vote is close and approaching the state's recount requirement, "we do not have a final decision on the outcome."