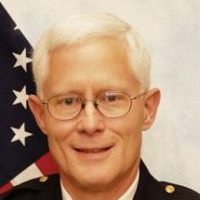 (Danville, Va.) — Retiring Police Chief Philip Broadfoot said Tuesday a sense of duty and devotion to country guided him through his 44-year career in law enforcement that included 13 years as chief of police in Waynesboro and 14 years as chief of police in Danville.
His comments came during a retirement reception held in his honor at the Institute for Advanced Learning and Research.
He called on the citizens of Danville to support the next police chief, adding: "Your support is critical to the success of the next chief, to the Police Department and the city of Danville."
His retirement will be effective Jan. 1. More than 150 city officials, state and local leaders, colleagues and friends attended the reception.
Broadfoot announced his retirement in August. The city is nearing the completion of the hiring process for Broadfoot's successor.