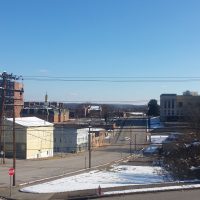 (Danville, Va.) – It was a long weekend for Danville Utilities linemen. They worked around-the-clock with contract crews to restore power to thousands of customers following outages caused by the wet snowstorm that blanketed the area Friday night and into the day Saturday.
Less than 100 outages remained as of late Sunday afternoon and Danville Public Information director Arnold Hendrix said he expected power to those customers to be restored by 10 p.m.
Public works crews treated the roads and bridges throughout the storm and there were few weather-related accidents in the city. A pedestrian was struck and killed when he walked in front of a car on Westover Drive Sunday night.
A warming shelter was set up at North Main Baptist Church for those left without power.
About four inches of snow fell Friday night.
Some schools are operating on a modified schedule Monday. Pittsylvania and Halifax County students will report two hours later than normal, along with students at Westover Christian Academy in Danville.