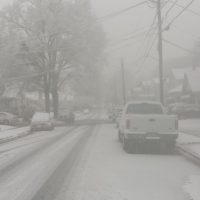 • Danville remains under a winter storm warning. Additional snow accumulation is possible, according to the National Weather Service.
• Public Works snowplow crews began clearing residential streets at 1 a.m. We expect to have all residential streets cleared by noon. Crews will remain on duty for the remainder of the day and overnight to place sand and salt in areas needed. We expect slick spots to develop on streets overnight due to below freezing temperatures. The high temperature today is expected to be in the mid-30s, which will cause some melting. Tree limbs have a heavy buildup of wet, heavy snow, which will fall on street surfaces as melting begins and then freeze on street surfaces overnight.
• Public Works received 18 service requests for down trees or limbs Friday evening and overnight. They have been removed from the right of way.
• Fallen trees and limbs caused a number of power outages. Currently, we have nearly 1,000 customers out in the Danville Community College area that took place when a tree fell over a power line. We expect to restore service in the next hour. We also have scattered outages throughout our service territory. Crews are working to restore service as quickly and safely as possible.
• Danville Transit Reserve-A-Ride service began operations this morning as normal. Fixed route buses began operating on snow routes, but will transition over to regular routes by mid-morning.
• A warming shelter is open at North Main Baptist Church. The shelter is located at 2818 N. Main St.