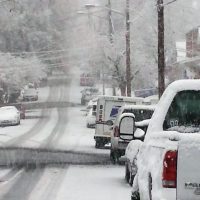 (Danville, Va.) — The National Weather Service, in its latest forecast, is now expecting heavier accumulations of snow. As a result, it has elevated the storm from a winter weather advisory to a winter storm warning. Roads are already snow covered and driving conditions will become much more hazardous as the temperature drops,
Total snow accumulations of three to seven inches are now projected, with the higher amounts occurring near the Blue Ridge from Patrick County to Watauga County, N.C.
For more information, go to Danville's winter storm page: http://bit.ly/2ifT2op. Here, you can learn more about snow removal operations, what to do in the event of power outages, and tips for winter safety.