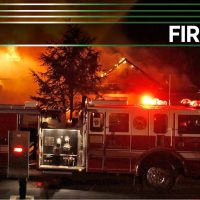 (Danville, Va.) – A Danville couple had a close call Friday morning. They were asleep around 5 a.m. when a neighbor knocked on the front door to tell them that their house was on fire.
Danville firefighters responded to 28 Elizabeth Street, where they found smoke and flames coming from the small, wood frame home.
It's believed the fire started in some cinders that were smoldering in the fireplace. The couple said they thought the fire was out when they went to bed Thursday night but awakened to find the house ablaze. There was also a problem with the aging fireplace and the flames spread to a gap between the fireplace and a wall.
Additional trucks were called to the home and the couple lost everything in the fire.
They are being assisted by the Red Cross.