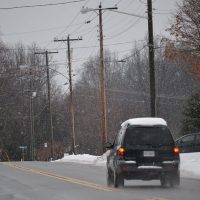 (Danville, Va.) – The National Weather Service in Blacksburg says Danville should snow and rain mix over the next 24 hours, with a total accumulation of one-to-three inches possible.
Blacksburg Meteorologist Andrew Loconto says with a high in the forties Friday, any snow that may fall late this afternoon won't stick. Rain is forecast for the region initially, mixing with snow this evening and turning to snow tonight. Snowfall may continue into the morning hours but will change over to a mixture and then just rain by Saturday afternoon.
Loconto expects some accumulation on grassy areas but says it will probably be too warm to stick to the pavement Saturday.
Danville Public Works has pretreated bridges with a salt and water solution  because of the approaching low-pressure system.