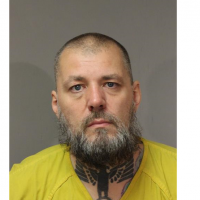 (Carroll County, Va.) — A fugitive from Pittsylvania County was arrested during a weekend traffic stop in Carroll County, Virginia.
A deputy was on patrol on Route 52 Friday when he attempted to make a traffic stop. The car didn't stop immediately comply, but the driver eventually pulled over and Roger Dale Williams was arrested. A records check revealed that the 45-year-old was wanted in Pittsylvania County and was driving under a suspended license.
Deputies searched the vehicle and found more than $1000 in cash, a small quantity of heroin and several pills. They also recovered two firearms, a loaded 9mm pistol, stolen from of Stafford County, Va. and a Bushmaster AR-15 rifle with 14 loaded, 30 round magazines.
Williams faces addition charges related to the traffic stop. He is being held in the New River Valley Regional Jail without bond.