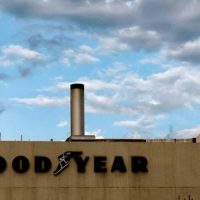 (Danville, Va.) – A fire in a mixer at the Danville Goodyear plant extended through the duct system and to the roof of the building but caused no major damage.
That area of the plant was evacuated while the fire was brought under control and there were no injuries.
The fire was discovered about 5:30 Monday afternoon. Goodyear's Emergency Response Brigade had been working about 40 minutes to fight the fire when the Danville Fire Department was notified. On arrival, they found that most of the flames had been contained by a deluge system in the duct work. Danville firefighters cleared the scene a short time later.
The next shift was arriving for work and the plant continued regular production, with the exception of the area around the fire.
The fire's cause is under investigation.