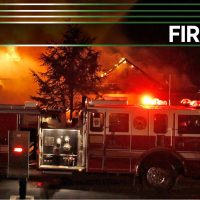 (Clover, Va.) — A grease fire destroyed a Halifax County home and left one occupant with burns as he tried to bring the flames under control with a fire extinguisher.
Flames were shooting through the roof of the single-story home on James D. Hagood Highway when the first units arrived Friday evening.
Owner David Martin suffered burns to his head and smoke inhalation while battling the blaze. He was released following treatment in the emergency room.
Investigators say he put a pan of grease on the kitchen stove and walked into the living room when the grease caught fire.
Firefighters were on the scene for four hours. The family lost everything and is being assisted by the Red Cross.