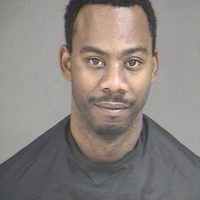 (Pittsylvania County, Va.) — The Pittsylvania County Sheriff's Office is looking for a man wanted for questioning in a malicious wounding that happened in Halifax County Tuesday morning.
Antone Lemont Hamlett, 34, is charged with malicious wounding after police say he stabbed a woman and then brought her to Gretna before abandoning her and his SUV. Neighbors said the woman was bleeding heavily from the waist down and jumped a fence by Highway 29 and was walking along the road when deputies found her.
His car was found abandoned off U.S. Highway 29 south of Gretna Tuesday afternoon, and it is believed that Hamlett fled on foot. A K-9 unit was brought to the scene to assist in the search.
Hamlett is described as a black male, weighing 185 pounds and standing 5 feet 11 inches tall.
If you see Hamlett or someone matching his description, you are asked to notify the nearest law enforcement agency.