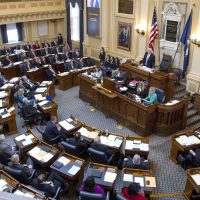 (Richmond, Va.) (AP) — Provisional ballot counts in the exceptionally close Virginia House of Delegates races that could determine control of the chamber have ended with Republicans holding onto the lead in all three.
The Stafford County elections board finished examining provisional ballots Tuesday in the 28th District race between Democrat Joshua Cole and Republican Bob Thomas. Thomas was left with an 82-vote lead.
The elections board also decided not to count 55 disputed absentee ballots, a move Democrats are challenging in court.
Earlier Tuesday, a Stafford County judge threw out a separate lawsuit alleging election officials had given "conflicting and misleading instructions" to voters.
Provisional votes were counted Monday in the 94th and 40th districts. Recounts are possible in all three races. If Democrats flipped one, the chamber would be tied.