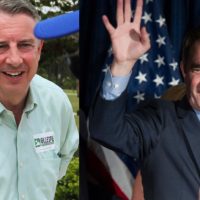 (Danville, Va.) — Voters in Virginia and New Jersey are choosing new governors today in contests that could be an early referendum on President Donald Trump. Swing-state Virginia is expected to be close, as most polls show Republican Ed Gillespie within striking distance of Democrat Ralph Northam. The outcome of the contests could also shape how candidates campaign in next year's mid-term elections.
In Danville, voters will be deciding the state's next governor, lieutenant governor and attorney general. There are no contested local races on the local ballot. Delegate Danny Marshall is running unopposed for the 14th District House seat, while candidates for city sheriff, treasurer, commissioner of revenue and commonwealth's attorney also have no opposition.
Pittsylvania County holds staggered four-year terms for both the board of supervisors and school board. The only contested race for the board of supervisors is for the Callands-Gretna district. Gretna town councilman and businessman Ben Farmer is running against registered nurse Barbara Hancock. Joe Davis is running unopposed for the Dan River district. There's a three-way contest for the Dan River School Board seat between vice chairman Neal Oakes, PTA member Gayle Barts, and teacher Cassandra Crump. For the Callands-Gretna School Board seat, sitting Chairman Calvin "Bunky" Doss is opposed by former school director Anita Royston.