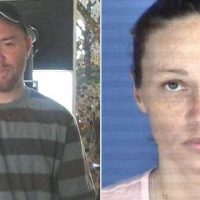 (Graham, N.C.) – Prosecutors say they will seek the death penalty for a couple charged in the brutal murder of an elderly Caswell County man this past summer.
Sean Damion Castorina and Penny Michelle Dawson are both charged with first-degree murder in the death of 84-year-old Harold D. Simpson.
Investigators say the two killed Simpson in rural Caswell County in August, then fled to Virginia where police say they shot another woman and left her for dead. The pair was finally arrested at a gas station in Fergus Falls, Minn.
Simpson went missing Aug. 19. His silver Chevrolet Cobalt was found abandoned in Nelson County, Va., three days later. Items belonging to Castorina and Dawson were found inside.
Human remains believed to be Simpson's were found in late August off Totten Road in Caswell County.
Dawson befriended Simpson months earlier.  On Aug. 19, they lured him to a location in Caswell County, where investigators say they tried to strangle him, and then killed Simpson by forcing his walking stick down his throat.
The couple fled to Shipman, Va., where they are charged with kidnapping a woman, tying her up, and putting her in a bathtub. She was shot in the back of the head but survived. They then stole her vehicle and fled before being caught in Minnesota.