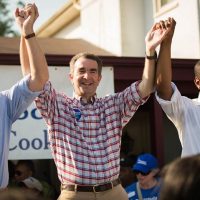 (Richmond, Va.) – Democrats won all three top elected offices in Virginia Tuesday, as voters chose Ralph Northam as governor, Justin Fairfax as lieutenant governor, and returned Mark Herring for a second term as attorney general.
The race was widely viewed as a referendum on the popularity of President Donald Trump. Northam, the state's lieutenant governor, repeatedly tried to tie Gillespie to the president during months of divisive campaigning overshadowed by racial overtones and attack ads.
Trump is distancing himself from defeated Virginia Republican gubernatorial candidate Ed Gillespie.
Trump is addressing the disappointing result in a race seen as an early referendum on his political clout. He writes on Twitter that Gillespie "worked hard but did not embrace me or what I stand for." Gillespie largely tried to maintain his distance from Trump on the campaign trail.
Trump recorded robocalls to help boost Gillespie's candidacy on Election Day. In one call, Trump said Gillespie shared his views on immigration and crime and would help "Make America Great Again."