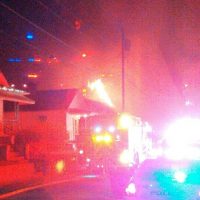 (Danville, Va.) — A home at 175 White Street was fully involved when firefighters arrived about 4:15 this morning, with flames shooting from the roof of the single story, frame house.  Firefighters determined no one was inside the house and mounted an exterior attack. Multiple units and support personnel responded along with a ladder truck as city crews who cut off power to the home. The cause is still undetermined. Firefighters kept the flames from spreading to nearby homes as electric crews shut off power to the building.
They were still battling the flames more than an hour later and remain on the scene. The fire was listed as under control at 5:38 this morning and it was reported that all occupants got out safely. The American Red Cross is assisting two people who live at the address.
About an hour earlier, firefighters were called to a home on Myrtle Avenue for a kitchen fire. They contained the blaze to one room and an occupant was treated for smoke inhalation. The American Red Cross is assisting.