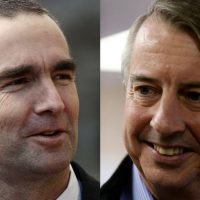 (Newport News, Va.) — Democrat Ralph Northam broke the 50% mark and extended his lead over Republican Ed Gillespie as the race to be Virginia's next governor entered its final weeks. That's according to a just-released tracking poll released by the Wason Center for Public Policy at Christopher Newport University.
Northam, now lieutenant governor, is the choice of 50% of the likely voters surveyed, while former Republican National Committee Chair Gillespie is the choice of 43%.
Libertarian Cliff Hyra polled at 3%, with 4% undecided. The survey's margin of error is +/- 3.8%.
Down-ticket, the Democratic candidates continue to lead their Republican rivals, but the gaps have narrowed in the latest tracking poll.
In the race for lieutenant governor, Democrat Justin Fairfax leads Republican state Sen. Jill Vogel, 47% to 44%, as Vogel gained to within the survey's margin of error.
Seeking a second term as attorney general, incumbent Democrat Mark Herring leads John Adams, 49% to 44%.