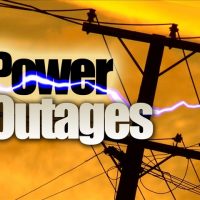 Danville, VA – Power has now been restored to most, if not all, of the nearly ten thousand homes and businesses in the Danville area that lost power last night as a severe storm moved through the area.  Danville Public Information Officer Arnold Hendrix says the outages began around 5:15 yesterday afternoon affecting more than 4,000 customers from the River District to South Boston Road. Circuit breakers at the Brantley Power substation, which serves that area, had tripped shutting the substation down, but crews were able to restore power in less than an hour.
Around 7:15, more than 5,000 homes and businesses went dark in Western Pittsylvania County from Tunstall to Cascade.  Utilities crews restored power to all but 400 of those customers by 9:45.  The remaining outage was caused when the high winds blew a tree onto a power line. Power was restored to all but 25 of those customers around 2:30 this morning.
Then just before 10:30, a feeder line serving the neighborhoods around Arnett Boulevard in Danville locked out, affecting another 700 customers.  Those customers got their electricity back around 11:40 last night.
While most of the area was also under a tornado warning during the early evening, no touchdowns or damage have been reported.