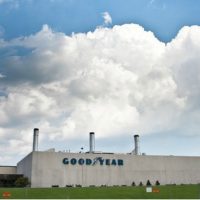 Danville Police have made an arrest after two threats were made this week by employees at the local Goodyear Tire and Rubber Company.
Police responded to the Goodyear plant on Tuesday following a threat made by an employee. This incident remains under investigation.
Then, on Thursday afternoon, police responded to Goodyear again regarding a threat made by another employee. As a result of the comments made by him, a warrant was obtained for "making and communicating a threat to bomb, burn, destroy or damage a place of assembly, building or other structure, or a means of transportation" in violation of Virginia State Code 18.2-83.
Jeremy O'Brian Huffman, 25, of Cascade, was taken into custody late Friday night and charged with making the bomb threat.