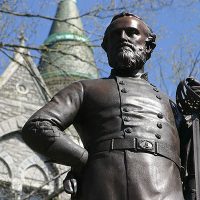 RICHMOND, Va. (AP) – Richmond's city attorney says any effort to remove the Confederate statues along historic Monument Avenue would require the General Assembly to approve a change to the city charter.
The Richmond Times-Dispatch reports City Attorney Allen Jackson issued that opinion in a recent confidential memo to City Council members. The memo's conclusions were first reported by the Richmond Free Press.
Jackson wrote that according to Richmond's charter, the city is bound to protect historical landmarks within its limits. Any change making it easier to remove the soaring statues would likely face long odds in the Republican-controlled General Assembly
A commission appointed by Mayor Levar Stoney has been studying what to do with the monuments. Violent white nationalist rallies in Charlottesville this summer sparked new calls from some residents to take them down.