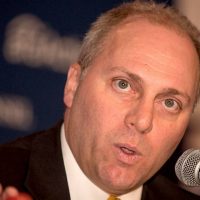 (Alexandria, Va.) (AP) — A prosecutor's report has found that officers from the U.S. Capitol Police and Alexandria, Virginia, police department fired more than 40 rounds to subdue and eventually kill the man who shot and wounded Congressman Steve Scalise and others on a northern Virginia ballfield.
The report released Friday by Alexandria Commonwealth's Attorney Bryan Porter concluded that officers were justified in using lethal force to confront 66-year-old James Hodgkinson, who wounded Scalise and four others in June during a practice for a charity baseball game.
The report states that an Alexandria officer and a Capitol Police officer each fired shots that struck Hodgkinson. The report credits the officers for pinning Hodgkinson down and placing him in custody within 10 minutes of the initial shots.
Hodgkinson later died from his injuries.