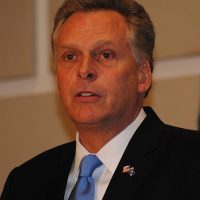 (Richmond, Va,) — Gov. Terry McAuliffe plans to seek new gun-control legislation in Virginia in the aftermath of the mass shooting in Las Vegas.
The Richmond Times Dispatch reports the governor will seek a ban on bump stock devices, high-capacity magazines and military-style assault rifles.
McAuliffe, who is nearing the end of his term and cannot seek re-election, has already pushed unsuccessfully for universal background checks and restoring Virginia's scrapped one-handgun-per-month law. The Republican-controlled legislature routinely blocks such restrictions and his proposals face steep odds in the General Assembly.
McAuliffe said the massacre in Las Vegas should serve as a wake-up call for Virginia and the rest of the country.