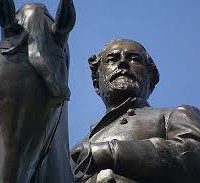 (Charlottesville, Va.) — A judge in Virginia says a lawsuit over Charlottesville's plans to remove a Confederate statue should go forward.
Judge Richard Moore ruled against the city's request to drop the lawsuit.
A group of plaintiffs sued after Charlottesville's City Council voted earlier this year to remove a statue of Confederate Gen. Robert E. Lee. Among other things, they say doing so would violate a state law that protects memorials for war veterans.
Controversy over the statue sparked an August rally of white nationalists that descended into violent chaos. Charlottesville has since shrouded the monument with a black shroud as a symbol of mourning for the woman who was killed.
The city council has also since voted to remove another statue of Confederate Gen. Thomas "Stonewall" Jackson.