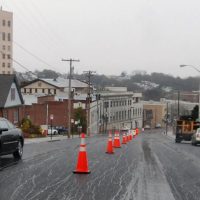 (Danville, Va.) — Patton Street between Craghead and Lynn streets is now closed to through traffic to allow for the start of a storm water drainage project that will affect traffic for six months or more.
The project not only will affect traffic, but Danville bus routes as well.
Danville Transit has established a detour of certain routes due to the construction.
The project will relocate storm water drainage that will be installed along Patton Street in front of the Municipal Building and the James F. Ingram Courthouse.
The project will be conducted in five phases. In the first phase, no through traffic will be allowed between Craghead and Lynn streets. Lynn and Market streets will remain open during this phase, which is expected to take one month to complete, weather permitting. (Photo: Richard T. Davis)