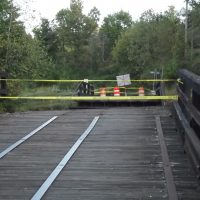 (Danville, Va.) – A Norfolk-Southern spokeswoman confirms that a Danville bridge was struck Sunday by one of its trains, causing a portion of the span to collapse onto the tracks below.
One of the train's rail cars apparently slammed into the wooden bridge on Water Street early Sunday afternoon, leaving a gaping hole in the center of the span.
Norfolk-Southern has not set a timetable for repairs and the bridge remains closed to traffic until further notice.