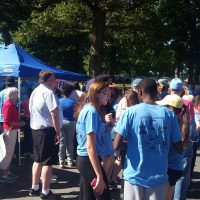 (Danville, Va.) – Despite the heat, hundreds turned out in Ballou Park yesterday to raise money and awareness for the hungry in Danville and beyond.
Organizers of the 10th annual Danville area hunger CROP walk say Sunday's event was one of the most successful to date. Teams and individuals braved the sun to walk the 5K event, carrying homemade signs as motorists honked in support of the walkers.
A large portion of the money raised through the annual event goes directly to God's Storehouse in Danville, while the rest goes to the World Church Service, which supports famine relief efforts globally.