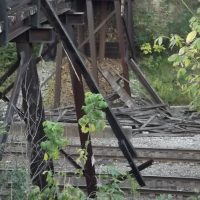 (Danville, Va.) – A large section of a wooden bridge collapsed in Danville over the weekend, forcing police to close a road.
Police say someone called 911 to report that a portion of the wooden bridge going over the Norfolk Southern railroad tracks at Water St. and Eagle Springs Road had collapsed onto the tracks below.
Norfolk Southern officials have been notified, and the bridge remains closed until further notice.