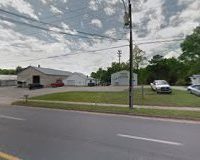 (Danville, Va.) – Danville Police are investigating another homicide after a woman's body was found in a metal trash bin outside a business on Westover Drive Friday morning.
Danville Police were called to the scene about 7:30 a.m. after a business owner discovered the body in a green trash bin.
Officers searched the area and placed yellow crime scene tape across the parking lots between Hudson's Welding and Interstate Battery on Westover Dr.
Police have not been able to identify the body and are asking the public for help. The deceased is black female.
It's the second murder in less than a day in Danville. A young man was found shot to death in the 400 block of Moffett Street about 9:30 Thursday night. He died of a gunshot wound to the upper body.